Jonathan Davis is a 

SOLLA

Accredited Later Life Adviser.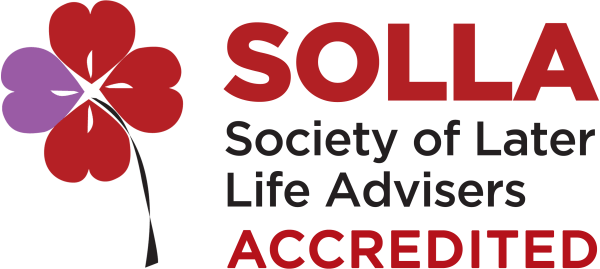 Needing care in later life isn't something we talk about often.  When this need arises most people don't know where to turn.
Faced with Care Home costs (after pension etc incomes) of often £500 to £1,000 per week, often for years, few realise that, with financial advice, this cost, potentially, can be covered by a one-off payment.  Advice on this and paying for care is where I, as a specialist Later Life Finance adviser, can help you.
It often makes sense to cap the costs, at outset.  £40,000 to £60,000 per annum can be the cost of residential or live-in (at home) care.  (More luxurious care or 24 hour care in your own home can cost  more.  Much more.)
The issue is not how much it costs.  Because you want to have comfort for yourself or for your parent, if you are the attorney.  So, you pay whatever it costs.
The issue is how best and most effectively to pay for it.  It is a HUGELY complex area.
Speak to me and I will help you through the maze.  I will ensure you obtain all the state benefits for which you are eligible, to help you pay for care.
I will also optimise your payments, so either:
a) Securing you an even more luxurious care facility than you thought you could have and / or
b) Retaining as much as possible for your children's inheritance.
Speak to me if you have significant wealth - to ensure you retain as much of it in the family as possible.  Or, if your wealth is just enough - to ensure it never runs out, and you would not have to move to a Local Authority-funded care facility.
The time to learn about Later Life Finance (LLF) is before you need it.
Lasting Powers of Attorney
Lasting Powers of Authority (LPAs) must be set up long before they are needed.  They do not normally take effect until the donor (elderly person, as it were) has lost capacity to act.  When LPAs are needed and not in place: major problems for your family normally ensue.

Finance in Later Life

Click on the boxes, below.

Click on links for factsheets on State Benefits and Local Authority / Social Services support:
Talk to me, even if years away from when Later Life Finance advice is required.  Though you never know when stuff can happen.
As John Lennon said:  "Life is what happens while you are busy making other plans."
Stuff happens.