Latest Entries
Categories
Bitcoin
Posted by jdavis on February 22, 2014
Some of you will have heard of it. Most not.
Those who have heard of it may have heard of the Scandinavian who put $27 in, a few years ago, and last year bought an upmarket flat with his Bitcoins…
The more knowledgeable of you will know that Bitcoin (or BTC) soared from c $100 early last year, to $1200 and is today back to c $160. WOW! That is what I call volatility.
Now, we as regulated financial advisers, cannot and do not advise on BTC as an investment. However, I did say to a friend recently (when it was c $900), it looks as if it's about to tumble. If it comes back below $200 I might just be interested to invest in it.
Well…
Just remember, it is hugely volatile, it is difficult to get hold of and retain – you need excellent knowledge – and it is not yet of much use other than speculation. If it takes off as a currency it could grow to spectacular valuations. Think of the Scandinavian guy last year…
By the way, have you ever seen the Phases of a Bubble Diagram?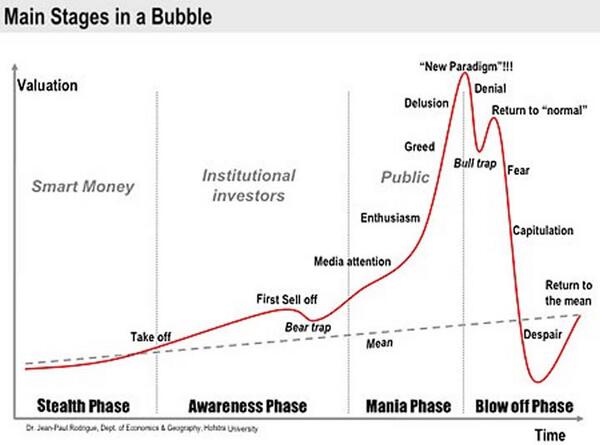 Does that remind you of anything?
BTC, perhaps.
or perhaps UK inflation-adjusted house prices...? (That's a whole other volume of web articles...!)
« China and Emerging Markets | Hints and Tips for the Tax Year End »